WaluFit : A sporting feature for your pool !
The WaluFit range offers water aerobics equipment to accompany water activities in your pool. Whether you are looking for leisure, rehabilitation or training, WaluFit products offer a large number of possibilities for fun and varied physical activity.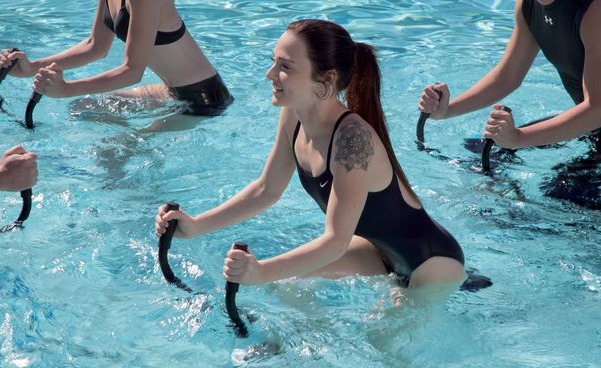 Complies to the French
N FP 90-308 standard
AQUABIKES AQUANESS

Combining the benefits of the exercise bike with those of water aerobics, aquabiking is an excellent sport for keeping in shape, slimming your legs and refining your figure. Aquabiking is practised in the pool on a user-friendly bike which has been specially designed for this very sport: the Aquaness.
Technical Specifications
Product 100% made in France
Robust: high quality aluminum, better suited to water than stainless steel
Lightweight thanks to the aluminum structure: from 9 kg (stainless steel bikes weigh on average 20 kg)
Easy to put into and take out of the water
Easy to get on the bike thanks to its shape
Models available for shallow pools, from 1 m up to 1.6 m
Technical design: simple and reliable
A choice of 9 colours!
Aquabiking : a beneficial sport for all !


Whit Aluminium Slate-grey Yellow Red Pink Sea-green Light-Blue Blue


FREESWIM

FreeSwim is an ingenious system to swim on the spot against the resistance of an extendable cable. Composed of a neoprene belt and a Click elastic cord, FreeSwim is the ideal system for a low-cost water activity in limited space!
Product 100% made in France
Elastic cable 2.5 m long, extendable up to 7.5 m
Waist circumference of the belt: 80-140 cm
Uses: leisure, training, fitness, rehabilitation
The ingenious system for swimming on the spot